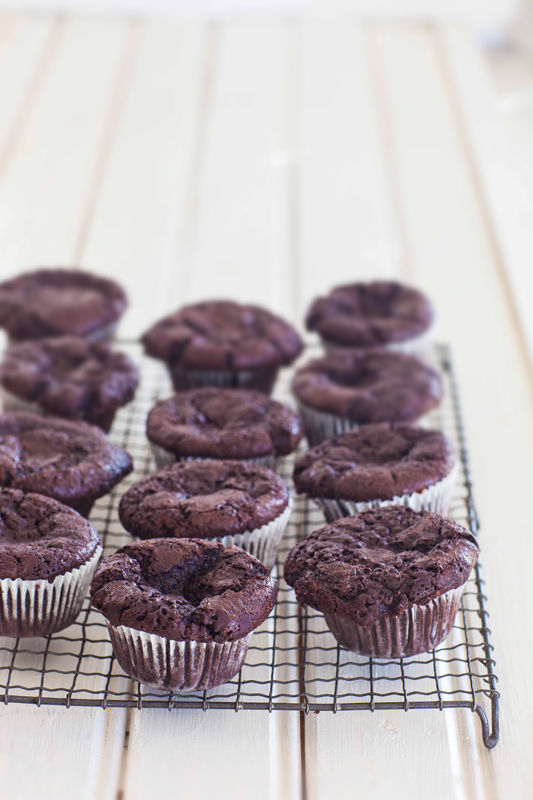 Photo: Mari Eriksson
Today I decided to make some simple but delicious muffins. They are moist and not too sugary. Very popular with my boys.
Ingredients
2 medium super ripe bananas
1 cup brown sugar
2 teaspoon vanilla extract
2 eggs room temp
100g melted and cooled butter
2 cups of almond meal
3 tablespoons coconut flour
60g cocoa powder
1 teaspoon baking powder
1/4 teaspoon salt
200 g coarsley chooped 70 % chocolate
additional chocolate for sprinkling
1 cup of milk with 1 1/2 tbsp of lime
Directions
Preheat the oven to 350°F (175°C) and line a muffin tin with 12 muffin liners.
In a large bowl, mash the bananas with the bottom of a glass. They should almost be like a puree.
Add the brown sugar and vanilla and stir.
Add in the eggs and oil and stir until well combined.
In a medium bowl, mix together the almond flour, coconut flour, cocoa powder, baking soda and salt.
Stir just until combined and then stir in the coarsely chopped chocolate.
Spoon the batter into the muffin liners and sprinkle the additional chocolate on top.This is important because it gives the muffin a beautiful glaze.
Bake for 18 minutes or until a toothpick inserted in the center comes out clean. Be careful not to confuse a melted chocolate chip with the batter.
Let the muffins cool for 5 minutes in the pan and then turn out onto a wire rack to cool completely.
Place in an airtight container and store in the refrigerator for up to 5 days.
Enjoy!