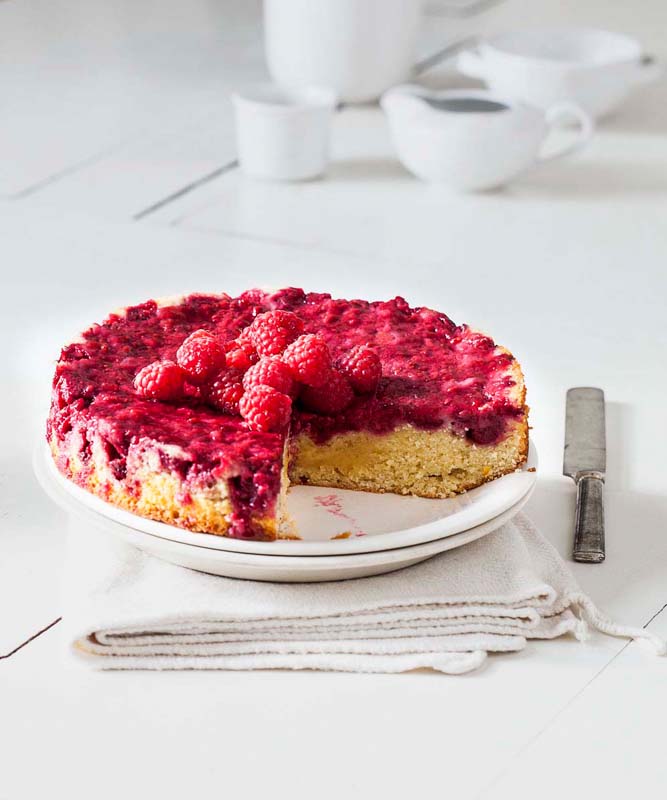 Foto: Mari Eriksson
This gorgeous cake I made for our lovely French friends this summer and it was a hit. It is all I want in a cake moist and sweet with my favourite almond meal. I know I want to put it in everything I bake now but I cant help it I love that frangipani taste. I used fresh raspberries from the garden and lightly whipped cream on the side.Here is the recipe. Enjoy!
Raspberry upside-down
400g raspberries
200g caster sugar
150g butter
1 lemon
3 eggs
2tsp vanilla powder
200g flour
2tsp baking powder
100g almond meal
Instructions:
Preheat the oven to 175C .
1. line the baking pan with a sheet of baking paper and sprinkle some sugar on the bottom. Put an even layer of the raspberry on top of the sugar and then add another 2 tbsp of sugar over the berries. Save some berries for decorations.
2. Melt the butter in a saucepan.
3. Grate the peel of the lemon and squeezed out the lemon juice.
4. Separate the egg whites and the yolk. Beat the egg whites with the sugar.
5. Add flour,baking powder, lemon peel and juice to the egg mix.
6. Then add the melted butter.
7. Whisk the egg whites to a stiff then gently fold them in the batter.
8. Pour the batter over the raspberries. Bake in the middle of the oven for 45min. Serve upside down with raspberries on top and whipped cream on the side.