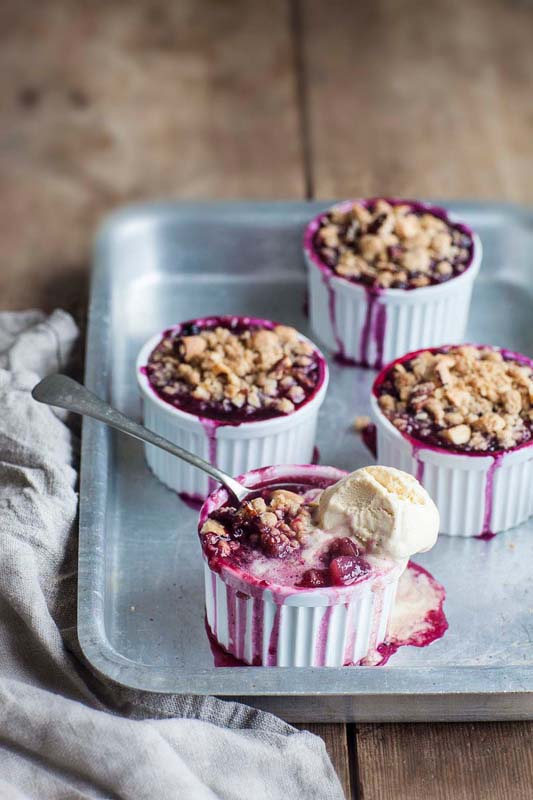 Foto: Mari Eriksson
These lovely mini berry crumble are perfect autumn comfort food. I love the combo of warm vanilla pear with the crunchy nuts and the cool ice cream. Enjoy!
Vanilla pear and fruit crumble
(Serves 4)
For the Berry Filling:
3 cups mixed berries
15g butter
5 pear peeled, cored and cut in 3 cm pieces
1/2 cup natural cane sugar
1 teaspoon vanilla extract
For the Topping:
1 cup all-purpose flour
1/4 cup almond meal
1/4 cup rolled oats
1/4 cup natural cane sugar
1/4 cup light muscavado sugar
1 teaspoon ground cinnamon
60 g of nuts I used para nuts and pecannuts
1/4 teaspoon salt
6 tablespoons butter, melted
Step 1:
Preheat oven to 180 C.
Melt butter in a saucepan. Add pear, sugar and vanilla extract stir and cook 5 minutes or until pear is tender. Take away from heat and add the berries.
Step 2:
In a separate bowl, mix together the flour, almond meal, oats, sugar and cinnamon together.
Step 3:
Pour the melted butter for the topping over the flour mixture.
Step 4:
Using a spoon, combine the melted butter with the flour mixture until crumbles form.
Step 5:
Place ramekins on a baking sheet and evenly distribute the mixed berries and pear into the four (4 inch) ramekins.
Step 6:
Evenly distribute the prepared crumble over the top of each ramekin. Bake for 20-25 minutes or until tops are golden. Allow the crumbles to cool slightly before serving with a scoop of vanilla ice cream.